Batch conversion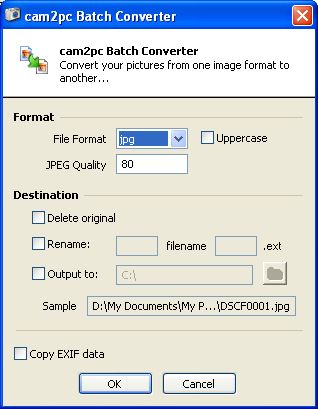 cam2pc allows you to convert images in batch. Converting an image is the process of saving images to another image format. You may wish comvert your TIF files to JPEG to save some disk space for instance.
If you do not check "Rename" or "Output to", your images will be replaced by the converted ones. To avoid that, you can:
Rename the images by adding a prefix and/or a suffix to the original image (e.g. rename image01.jpg to image01_small.jpg)
Output the converted images to a different directory. Click on the folder button to browse your computer for a destination folder.
Of course, you can rename and output to a different directory at the same time.
The last option allows you preserve EXIF metadata when doing the conversion. Keep in mind that only TIFF and JPEG file formats are able to store EXIF metadata.